1 large onion chopped
1 kg beef mince
2 large potatoes chopped
1 tablespoon tomato sauce
6 tablespoons worchestershire sauce
1 tablespoons peas (dried or frozen)
Salt and Pepper to taste
1 tablespoon butter
2 carrots chopped
4 beef stock cubes
5 cups water
1 cup rolled oats
1/2 teaspoon vegemite
1 tablespoon flour or cornflour
Melt butter in saucepan, and fry onion, mince, carrot and potato until mince is brown.
Add all remaining ingredients EXCEPT salt, pepper and flour.
Simmer until potato and carrot are cooked.
Mix flour to paste with some water.
Pour over mince stirring all of the time.
Add salt and pepper to taste.
Parmesan Mashed Potato Patties
Some cooked potatoes
Parmesan Cheese
Egg
Parsley and Chives (Celery, Dill, Basil, Spring onions or whatever you like)
Plain Flour
Salt and Petter
Olive Oil
Cook the potatoes over a gentle boil for approx 20-25 mins. COOL then MASH
Once mashed, add egg, parmesan cheese, parsley, chives, flour, salt and pepper  MIX WELL
Scoop out 1/2 cup of mixture and form into patty shape ensuring they are not too thin
Place 1/2 cup parmesan cheese on flat plate
Roll patties in parmesan, be generous with the parmesan cheese
Heat some olive oil in a nonstick frypan, fry each patty until golden brown approx 3-4 mins on each side
DO NOT DISTURB when cooking
Serve with green salad with salad dressing
Bacon Risotto
– great dish for Games Night.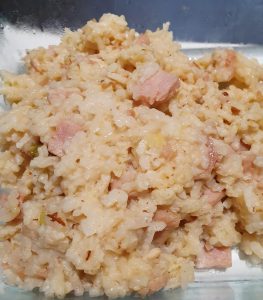 2 tabs cooking oil
2 onions chopped
Garlic chopped (to your taste)
500gm Bacon chopped in cubes
3 x Chicken Stock Cubes
1 1/2 cups Arbio Rice
125 gm Butter
Water  = Rice to Liquid  1-3  for every 1 cup of rice use 3 cups of water
In large saucepan place about 2 tabs of cooling oil, fry ONIONS and GARLIC, until onion is soft and garlic is to your personal taste.
Add chopped BACON, cook until the bacon is just brown.
Boil jug of water and add to CHICKEN STOCK CUBES, this must be kept warm.
Once bacon is as desired, add 1 1/2 cups of ARBORIO RICE
Add approx 125gm BUTTER and allow rice to absorb
Once absorbed, commence adding the stock mix.  DO THIS VERY SLOWLY.  (The slower this is done, the better the outcome will be)
Do not add more stock until the previous addition has been absorbed.  The key to a great risotto is PATIENCE !
I add about a cup at a time.
When I have about 2-3 cups remaining, I add these and cut off the heat and cover the rice with a lid.  Allow to sit and absorb the final amount.
Note:  for a 1 1/2 cup of rice recipe, I use 3 Massel Stock cubes.  Otherwise it may get a little bit salty.
An early start today. I have a Hungarian-Style GOULASH bubbling away in my mother's old slow cooker. It is a reminder of her each time that I use it. I still remember her having it on her kitchen bench.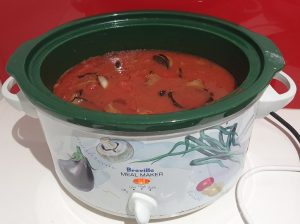 Hungarian Style GOULASH
800gm lean diced VEAL
1 tablespoon Sweet PAPRIKA
2 tablespoons PLAIN FLOUR
2 teaspoons CARAWAY SEEDS
OIL SPRAY
1 medium ONION, chopped
1 cup BEEF STOCK
2 x 400gm cans diced TOMATO
1 tablespoon TOMATO PASTE
3 medium POTATOES chopped
2 teaspoons fresh OREGANO chopped
Combine paprika,flour and seeds. Toss veal and shake off excess
Coat slow cooker with cooking oil
Melt some butter and cook veal in batches
Cook onion in same pan
Place veal, cooked onion, stock, undrained crushed tomatoes, tomato paste in slow cooker on slow.
Approx 2 hours before serving, add potato and cook until potato is cooked, and veal is tender.
Stir in Oregano and serve with a healthy salad.