100gm unsalted butter
1 cup caster sugar
1 tablespoon finely grated lime rind
1/3 cup fresh lime juice
3 eggs lightly whisked
1/2 cup desiccated coconut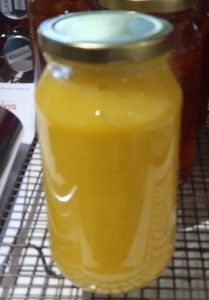 Stir the butter, sugar, lemon rind and lemon juice in a medium saucepan over LOW heat for 4 minutes or until sugar dissolves.  Remove from heat
Pour eggs through a tight sieve into the butter mixture, stirring ALL of the time, until well combined. Cook over LOW heat for 8 minutes or until mixture coats the back of a spoon
Stir in coconut and mix well.  Pour into bottles, seal and sit upside down for 2 minutes.  Turn upright and allow to set and cool.