Great if you have too many zucchinis, like I do at the moment.  I thought I would try a GF version of this cake.  I am very happy with the result. I will add cream cheese icing when serving.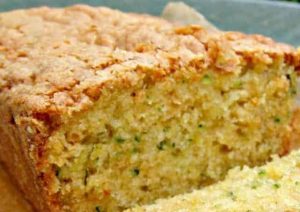 Ingredients
3 eggs
1 cup (250ml) vegetable oil
1 1/2 cups (300g) white sugar
2 cups (250g) zucchini, grated
2 teaspoons vanilla essence
2 cups (250g) GF plain flour2
2 teas xanthan gum
2 teaspoons bicarb soda
1 teaspoon salt
1/4 teaspoon baking powder
3 teaspoons ground cinnamon
1 cup (115g) walnuts, diced
Preparation method
Spray oil onto baking tin.Preheat oven to 180 deg.
Combine, eggs, oil sugar, zucchini and vanilla.  Beat until well mixed.
Stir in flour, xanthan gum, bicarb soda, sale baking powder and cinnamon. Mix until well combined.
Finally stir in walnuts.
Pour into tins and bake for 45 mins.