An early start today.  I have a Hungarian-Style GOULASH bubbling away in my mother's old slow cooker.  It is a reminder of her each time that I use it.  I still remember her having it on her kitchen bench.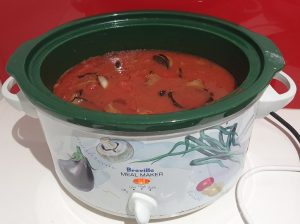 Hungarian Style GOULASH
800gm  lean diced VEAL
1 tablespoon Sweet PAPRIKA
2 tablespoons PLAIN FLOUR
2 teaspoons CARAWAY SEEDS
OIL SPRAY
1 medium ONION, chopped
1 cup BEEF STOCK
2 x 400gm cans diced TOMATO
1 tablespoon TOMATO PASTE
3 medium POTATOES chopped
2 teaspoons fresh OREGANO chopped
Combine paprika,flour and seeds.  Toss veal and shake off excess
Coat slow cooker with cooking oil
Melt some butter and cook veal in batches
Cook onion in same pan
Place veal, cooked onion, stock, undrained crushed tomatoes, tomato paste in slow cooker on slow.
Approx 2 hours before serving, add potato and cook until potato is cooked, and veal is tender.
Stir in Oregano and serve with a healthy salad.