Lunchbox Muesli Bars  –  These are old faves that my children took to school regularly.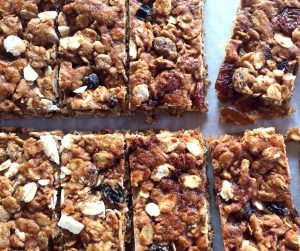 1 cup Rolled Oats
1 cup Rice Bubbles
3/4 cup Brown Sugar
1/2 cup Peanut Paste
1 cup Coconut
1/2 cup Sultanas
1/2 cup Honey
1 pkt Choc Chips (Optional)
4 Vita Brits/Weet bix
Melt butter with sugar, honey and peanut paste
Simmer for 5 minutes
Add remaining ingredients
Press onto greased lamington tin and bake until top is golden.
Cut to muesli bar sizes when still warm.