Bacon Risotto – great dish for Games Night.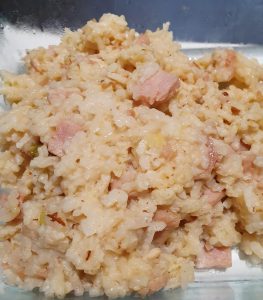 2 tabs cooking oil
2 onions chopped
Garlic chopped (to your taste)
500gm Bacon chopped in cubes
3 x Chicken Stock Cubes
1 1/2 cups Arbio Rice
125 gm Butter
Water  = Rice to Liquid  1-3  for every 1 cup of rice use 3 cups of water
In large saucepan place about 2 tabs of cooling oil, fry ONIONS and GARLIC, until onion is soft and garlic is to your personal taste.
Add chopped BACON, cook until the bacon is just brown.
Boil jug of water and add to CHICKEN STOCK CUBES, this must be kept warm.
Once bacon is as desired, add 1 1/2 cups of ARBORIO RICE
Add approx 125gm BUTTER and allow rice to absorb
Once absorbed, commence adding the stock mix.  DO THIS VERY SLOWLY.  (The slower this is done, the better the outcome will be)
Do not add more stock until the previous addition has been absorbed.  The key to a great risotto is PATIENCE !
I add about a cup at a time.
When I have about 2-3 cups remaining, I add these and cut off the heat and cover the rice with a lid.  Allow to sit and absorb the final amount.
Note:  for a 1 1/2 cup of rice recipe, I use 3 Massel Stock cubes.  Otherwise it may get a little bit salty.