We always hear about these NEW SPECIAL DIETS, the most wonderful way of living that will help with weight loss, help us to live longer and better, etc etc.                                                                                 Well, I still go with what my mum said Moderation is the key.  A little bit of everything sounds great to me. We should try to include the FIVE food groups in your diet daily.
Here is the list from Better Health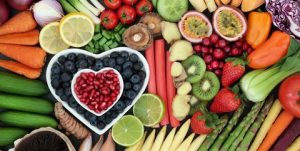 vegetables and legumes or beans – raw or cooked vegetables can be used as a snack food or part of lunch and dinner. Salad vegetables for sandwich filling. Vegetable soup can be a healthy lunch. Stir-fries, vegetable patties and vegetable curries are nutritious evening meals. Keep a box of cut up raw vegetables front and centre in your fridge to catch your eye when you're looking for an easy snack. Bean-based dips such as hummus (made from chickpeas)
fruit – fruit is easy to carry as a snack and can be included in most meals. Try a banana with your breakfast cereal, an apple for morning tea, and add some berries to your yoghurt for an afternoon snack. Fresh whole fruit is recommended over fruit juice and dried fruit
grain (cereal) foods, mostly wholegrain– add rice, pasta or noodles to serves of protein (such as lean meat, fish, poultry, legumes, beans or tofu) and vegetables to meals.  Choose wholegrain breads and cereals, these will provide more nutrients and fibre, which helps keeps your digestive system healthy. Choose FIBRE options that have 3 g or more of fibre per serve
lean meats and poultry, fish , eggs, tofu, nuts and seeds and legumes or beans – these can all provide protein. Try adding lean meat to your sandwich or have a handful of nuts as a snack. Legumes and beans can also be added to most meals (for example, soups or stews) or make meat stretch further (for example, when added to a bolognese sauce)
milk, yoghurt, cheese or alternatives (mostly reduced fat) – try adding yoghurt to breakfast cereal with milk, or using cottage cheese as a sandwich filling. Shavings of parmesan or cheddar can be used to top steamed vegetables or a salad.
In 2011–12 occasional foods/take away or meals prepared out of the house/coffee was just over one-third of the total daily energy consumed by Australians.    Some suggestions from Better Health
Try ordering a takeaway meal without the fries.
Choose bread-based options like wraps, kebabs, souvlaki or hamburgers.
Avoid deep fried and pastry options.
Include extra vegetables and salad.
Choose smaller portions or share, and add a green salad
Limit salt sauces, toppings like cheese, fatty meats and mayonnaise
Drink plenty of water.
Upsize ONLY when a side salad.
Fast foods that have relatively low levels of saturated fat and added salt include:
pizzas with less cheese and meat
grilled chicken burgers or wraps
grilled, lean meat hamburgers, with no cheese or bacon additions
grilled fish burgers.