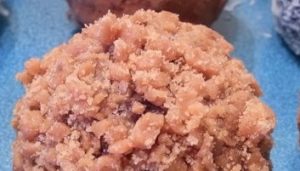 I have made these for a couple of years now.  I usually put some cherry brandy in mine.
150gms red cherries
1 cup condensed milk
6 cups dessicated coconut
6 tabs cherry brandy (or as much as you want to suit your taste)
600gm dark chocolate
Place red cherries, condensed milk, coconut, and brandy in the food processor.
Melt chocolate in double saucepan to melt – slowly.
Roll mixture into balls and then half coat in chocolate by dipping into the mixture.
Place in fridge to set.