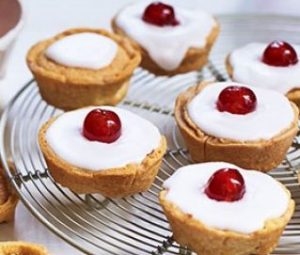 Old English Christmas Tarts
1/3 cup Butter
1/2 cup Brown Sugar
1 Egg
1/2 cup Chopped Walnuts
1 cup Raisins
Pinch Salt
Vanilla Essence
Sheets of short crust pastry cut into pie shapes.
For Icing 1 1/2 cups soft icing mixture
25gm butter
1 tab Milk
1pkt red/green glaced cherries
Melt butter and sugar over low heat. Remove and Cool slightly.
Beat the egg in bowl, add the butter and sugar mixture.
Add Nuts, Raisins, Salt and Vanilla.  Mix together.
Spoon mixture into pastry shells.  Bake for 15 minutes in moderate oven.
When cold, decorate with white icing and red cherries.
ICING
Mix together – 1 1/2 cups Soft Icing Mixture + 25gm butter + 1 tab Milk
Add Cherries