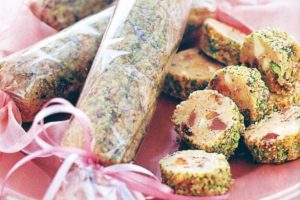 Chocolate, Fruit and Nut Logs
250g shortbread biscuits
1/2 cup Milk CHOC BITS
1/2 cup White CHOC BITS
1 cup fruit medley
3/4 cup shelled pistachio kernels, roughly chopped
3/4 cup walnuts, roughly chopped
395g can  Sweetened Condensed Milk
185g White Melts, roughly chopped
60g butter
Crush biscuits to fine crumbs in a food processor. Transfer to a bowl. Add choc bits, fruit, 1/4 cup of pistachios and 1/4 cup of walnuts. Stir to combine.
Combine condensed milk, melts and butter in a small saucepan over low heat. Stir until melted and smooth. Set aside to cool. Stir into biscuit mixture. Form biscuit mixture into 10 x 12cm-long logs
Finely chop remaining nuts. Spread over a sheet of baking paper. Roll logs in nuts. Cover and refrigerate until set. Wrap in cellophane and tie with ribbons.