I think these will be a treat for a staff gathering.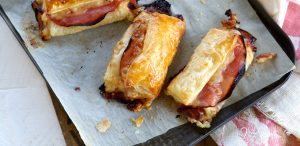 4 eggs
4 tabs milk
8 sheets Puff Pastry
32 sliced cooked ham
16 slices swiss cheese
Heat oven to 200c
Best Egg and milk with a fork
Lay the pastry sheets flat on baking paper. Cut each into 2 rectangles.  Brush edges with egg mixture
Place 2 slices ham and 1 slice cheese in centre of the rectangle.  Fold the pastry from one side over the filling halfway, then fold the other side.
Repeat with the remaining pastries.  Brush all with the egg mixture.  Place onto baking sheet.
Bake 15-20 mins or until golden brown.
This should keep us going for a while ?  Great for lunch boxes too.