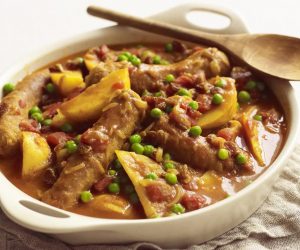 12 thick beef sausages
1 tablespoon vegetable oil
2 medium brown onions sliced thinly
2 tablespoons milk curry powder
400gm can diced tomatoes
1 cup beef stock
1 cup water
4 medium potatoes sliced into thick wedges
1 cup frozen peas thawed
1/2 cup sultanas
Place sausages in a large saucepan, add enough cold water to cover sausages, bring to boil.  Boil uncovered, about 2 mins, darin
Heat oil in same pan, cook onion, stirring, until softened. Add curry powder, cook, stirring, until fragrant.  Remove from heat, stir in tomatoes, stock and the water.
Place potatoes in a 4.5 lt slow cooker, top with sausages and onion mixture, cook covered on low for about 8 hours.
Stir in peas and sultanas, Season to taste.
I will test this one out on some friends on Friday evening, it seems like a recipe that I could actually follow without too much interference  🙂
There is nothing like good curried sausages, served with mashed potatoes with lots of milk and butter and a serve of green beans and corn.  My mouth is watering already !