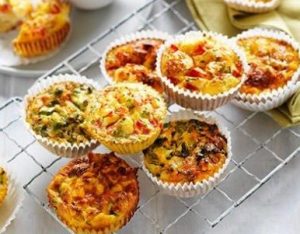 6 eggs

1/2 cup milk

2 tbs plain flour

1 pinch salt and pepper
Tomato, fetta and chives
250 g tomatoes deseeded diced quartered

150 g fetta crumbled

2 tbs chives finely chopped
Cheese and vegies
100 g broccolini roughly chopped

1 carrot grated large

3/4 cup frozen peas

3/4 cup cheddar cheese grated
Zucchini, corn and mozzarella
2 zucchinis grated

250 g corn kernels drained

3/4 cup mozzarella grated
Method
Preheat oven to 180C. Line muffin moulds with paper cases. Whisk eggs, milk and flour in a medium bowl. Season with salt and white pepper.

Add one of the fillings and spoon into prepared muffin cases. Bake for 20-25 minutes or until puffed and cooked through. Transfer to a wire rack to cool. Serve or wrap cold muffins in plastic wrap. Place wrapped muffins into clip lock bags or airtight containers and place in freezer for up to 2 months.

Cherry tomatoes, fetta and chives filling: Add chopped tomatoes, fetta and chives to egg mixture. Season with salt and pepper.

Cheese and vegies filling: Add broccolini, carrot and peas to a saucepan of boiling water. Cook for 2 minutes or until just tender. Drain and rinse under cold water. Drain well and add to egg mixture with cheese. Season with salt and pepper.

Zucchini, corn and mozzarella filling: Grate zucchini and using your hands, squeeze as much liquid as possible from zucchini. Add zucchini, corn and mozzarella to egg mixture.