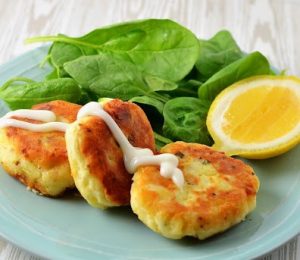 Bacon and Potato Fritters
Ingredients
200g bacon, chopped
750g desiree potatoes, peeled and chopped
1.5 tblsp wholegrain mustard
1/2 cup fresh breadcrumbs
4 tblsp chopped chives
2 egg, lightly beaten
4 tblsp plain flour
Rice bran oil or sunflower oil, to shallow-fry
Method
1. Place a frypan over medium-high heat. Add the bacon and cook, stirring, until golden but not too crisp. Drain on paper towel.
2. Cook the potatoes by placing the potatoes in a saucepan of cold water with a little salt added. Bring to the boil and cook until tender, about 12-15 minutes. Drain and cool.
3. Transfer the potato to a bowl and roughly mash. Add the mustard, breadcrumbs, chives and beaten egg. Season with salt and pepper. Mix well to combine. Fold in the bacon pieces.
4. Use damp hands to shape the potato mixture into patties about 2cm (1½"") thick. Dust lightly with flour.
5. Heat about 1cm (½")of the oil in a large frypan over medium heat. Cook the patties for about 3-4 minutes on each side, or until golden. Drain on paper towel. Serve with salad and lemon wedges to squeeze over.