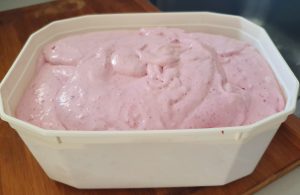 1 COLD 600 ml of Full Cream – beat till peaks hold
Add 1 COLD tin of Condensed Milk – beat till peaks hold
Add 2 teas vanilla
Add blended Frozen Raspberries.  ( I used about 1/2 packet – use as many as you prefer)
Blend all together and place in container in the freezer until frozen.
Beautiful and so easy.  Like all of the recipes, the trick is to have the ingredients COLD.  I even use COLD Vanilla.
Enjoy !