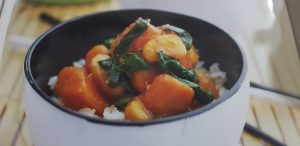 But mine had a twist because the spinach in the fridge was no good.  I simply used green peas, and the result was pretty good.
500gm Orange Sweet Potato
225gm Tinned Water Chestnuts
1 tablespoon oil
2 garlic cloves (2 teas crushed Garlic)
2 teaspoons Sambal Oelek (chilli paste from South east Asia)
2 teaspoons grated Palm Sugar
400gm Spinach stems removed (or Green Peas)
2 tablespoons Soy Sauce
2 tablespoons Vegetable Stock
Cube the sweet Potato and Cook in Large saucepan of boiling water for 15 mins.  Drain well.
Drain the sliced Water Chestnuts.
Heat wok/frypan over high heat.  Add oil and coat base of pan
Add Garlic and Sambal Oelek for 1 minute.
Add sweet potato and stir-fry for 2 mins over medium heat.
Reduce heat to Medium add Palm Sugar, and Spinach, Soy Sauce and Stock, toss until spinach is wilted.
Serve over some steamed rice.