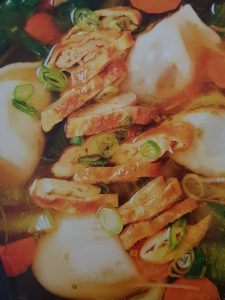 I am a soup lover from way back.  I love thin soups, am not a big fan of thick, creamy ones. This is one of the best soups that I have ever made.  Well worth a try.
1 carrot
1 bunch pak choy
ginger
coriander
1 spring onion
2 chinese style stock cubes
2 teas sesame oil
300gm pork dumplings (with ginger)
1 1/4 tabs soy sauce
1 tsp sugar
4 cups boiling water
2 eggs
cracked pepper
2 teas oil
Peel carrot, halve length ways and thinly slice.
Coarsely chop pak choy keeping stems and leaves separate.
Peel a piece of ginger and cut into thin matchsticks.
Pick coriander and then finely chop stems, keep separate.
Thinly slice the spring onion.
Crumble stock cubes in jug and add 1 tbs soy sauce, 1 tab sugar and 4 cups boiling water.
In separate bowl, whisk egg and add 1 teas soy sauce and combine.
In saucepan. heat sesame oil at medium heat.  Stir fry ginger, and coriander stems for 1 minute.
Add stock, increase to high and bring to boil.  Then reduce heat.
Add carrots and cook for 2 mins.
Add pak choy stems and dumplings and cook at gentle simmer for 2 mins.
Add pak choy leaves and cook for 1 min.
Season with cracked pepper.
In small frypan – Heat 2 teas oil over med heat.
Add egg mixture and swirl to coat base.  Cook for 1 min each side. Remove omelette and roll up.
Cut omelette into strips.
Divide dumplings between bowls.  Divide soup between bowls.  Scatter omelette, spring onion, and coriander leaves over sour to serve.