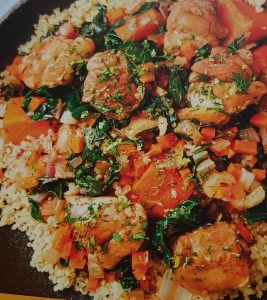 Ingredients
125gm quinoa
1 red onion ( chopped finely)
1 carrot (finely chopped)
200gm silverbeet remove stems chop both and keep separate
2 garlic cloves
dill chopped
1sweet potato chopped into 2.5 cm cubes
2 chicken stock cubes crushed
chicken thigh fillets x 4 cut into bit sized pieces
5 gm ground sumac
5 gm baharat spice blend
1 lemon
Method
 Cook quinoa – rinse well and drain  Place quinoa in small saucepan with 1 cup water, cover and bring to simmer.  Reduce heat to low and cook, covered for 12-15 mins until water is absorbed.  Turn off heat and stand covered for 5 mins.
Place 2 tabs oil in saucepan, add chicken and cook over medium-high heat for 2 mins each side.  Remove from pan and set aside.
Add crumbled chicken stock cubes to 2 cups of boiling water and dissolve.
Add the onion, carrot and silverbeet stems to the same pan and season with salt.  Cook until golden approx 5-6 mins.  Add garlic, sumac and 1 1/2 tspns baharat.  Cook for 1 min until fragrant.
Return chicken to vegetables, add stock and cook for approx 5 mins.
Add the sweet potato and cook for 8-10 mins.
Grate the lemon zest then juice the lemon. Finely chop the dill.
Once cooked stir in the silverbeet leaves and cook until wilted approx 1-2 mins.  Stir in 1 tab lemon juice and half of the dill.
Place quinoa in the serving bowls, add chicken mix, season with salt and pepper.  Scatter some lemon zest and the remaining dill to serve.