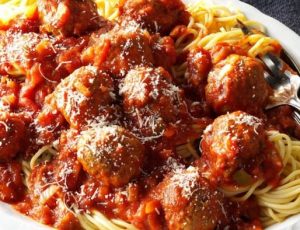 Ingredients
1 cup seasoned bread crumbs
2 tablespoons grated Parmesan and Romano cheese blend
1 teaspoon pepper
1/2 teaspoon salt
2 large eggs, lightly beaten
2 pounds ground beef
SAUCE:
1 large onion, finely chopped
1 medium green pepper, finely chopped
3 cans (15 ounces each) tomato sauce
2 cans (14-1/2 ounces each) diced tomatoes, undrained
1 can (6 ounces) tomato paste
6 garlic cloves, minced
2 bay leaves
1 teaspoon each dried basil, oregano and parsley flakes
1 teaspoon salt
1/2 teaspoon pepper
1/4 teaspoon crushed red pepper flakes
Hot cooked spaghetti
In a large bowl, mix bread crumbs, cheese, pepper and salt; stir in eggs. Add beef; mix lightly but thoroughly. Shape into 1-1/2-in. balls. In a large skillet, brown meatballs in batches over medium heat; drain.
Place the first five sauce ingredients in a slow cooker; stir in garlic and seasonings. Add meatballs, stirring gently to coat. Cook, covered, on low 5-6 hours or until meatballs are cooked through.
Remove bay leaves. Serve with spaghetti.