9/6/19 This is a pic of the ones that I made…. smell good, have to wait a few days to taste.  Can't wait. 🙂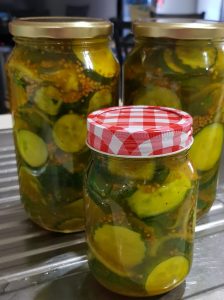 I picked up a haul of fresh cucumbers yesterday, from a local guy, and tomorrow I will make Bread and Butter Pickles.  Here is the recipe.
3 lb crisp cucumbers, sliced 1/4 in thick
1/2 medium onion thinly sliced
1/4 cup salt/sea salt
2 cups white vinegar
1/2 cup water
1 cup sugar
2 tabs mustard seeds
1 teas celery seeds
1 teas turmeric
Place the cucumbers and onions in a colander resting in a large bowl or in the sink.  Toss the sale and let stand for 1-2 hours (the cucumber will release a lot of water during salting)
Rinse the cucumbers and onions and then place in a single layer on a couple of sheet pans lined with paper towels.  Cover with another layer of paper towels and let dry overnight.
The next day, combine the vinegar, water, sugar, mustard seeds, celery seeds, and turmeric in  a large saucepan.  Heat to a boil
Fill your sterilized canning jars with the cucumbers and onions, leaving about 1/2 inch space from the top of the jars. Pour the vinegar mixture over the cucumbers and onions to fill the jars.  Seal the jars according to manufacturers instructions.
Store in the refrigerator and allow to sit for several days before opening to allow the flavors to fully develop.  Best served chilled.