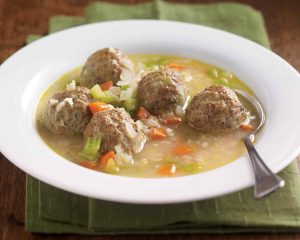 MEATBALLS
500gm mince (can us any lean mince)
1 egg white
2 teaspoon Tomato Sauce
2 teaspoon BBQ Sauce
SOUP
cooking spray
1 cup each of diced onion,  carrot,  turnip,  parnsip,  celery,  swede.
2 teaspoons each of crushed Garlic,  Worcestershire Sauce,  dried Oregano.
3 Tablespoons each of Soy Sauce,  Chicken style Stock Powder.
3 litres water
1/2 cup dried soup mix
1/4 cup fresh Parsley chopped
Pepper to taste.
MEATBALLS
Mix meatball ingredients together.  Roll into balls, about 1 teaspoon of mixture for each ball.  Set aside.
SOUP
Spray the inside of the stock pot liberally with oil.
Place all vegetables, and garlic in a stock pot.  Saute for 3 mins.
Separate meatballs, parsley and pepper.
Add all remaining ingredients to the pot  and bring to boil.
Carefully drop the meatballs into the pot and return to boil.
Reduce heat and simmer for 30 mins or until vegetables are cooked
Add parsley and pepper.