Honestly, I only went there to pick up 30 small Womans Weekly Cookbooks.
I had no intention to drive away with 150 Cookbooks in total !  True !!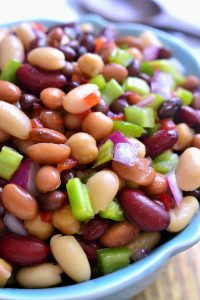 DRESSING: 
1/2 cup Italian Fat Free salad dressing
1/2 teaspoon crushed garlic
1 tablespoon BBQ Sauce
2 teaspoons Thai Chili Stir Fry Paste
SALAD:
1 x 400gm can Kidney Beans
1 x 400gm can Canelloni Beans
1 x 400gm can Borlotti Beans
1 cup fresh green beans slices
1 cup mung beans
1 small salad onion diced
1/2 cup celery sliced
1/2 cup capsicum diced
1 cup fresh tomatoes diced
Pepper to taste
DIRECTIONS:
Combine all dressings ingredients.
Drain and wash all canned beans.
Place all ingredients including dressing in a large bowl,
Fold together until well combined.