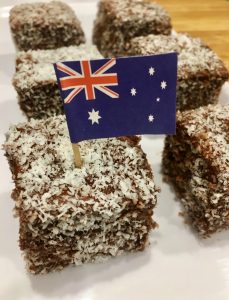 A LAMINGTON is an Australian cake, made from squares of butter cake or sponge cake coated in an outer layer of chocolate sauce and rolled in desiccated coconut. The thin mixture is absorbed into the outside of the sponge cake and left to set, giving the cake a distinctive texture.
The recipe's inventor has been debated. Most stories attribute its creation to Lord Lamington's chef, the French-born Armand Galland, who was called upon at short notice to feed unexpected guests with only the limited ingredients available. Galland cut up some left-over sponges baked the day before, dipped the slices in chocolate and set them in coconut. Impressed by Galland's creation, Lamington's guests were said to have later asked for the recipe. This version of events is supported by Lady Lamington's memoirs. Coconut was not widely used in European cooking at that time, but was known to Galland whose wife was from Tahiti where coconut was a common ingredient. 
LAMINGTONS
3 eggs
3/4 cups caster sugar
 1 tsp vanilla essence
 3/4 cups plain white flour
1/4 cup cornflour
1 ½  tsp baking powder
80g reduced-fat dairy blend with canola
3 tbsp cocoa powder
2 cup icing sugar
1/3 cup desiccated coconut
Spray or Grease for the cake tin.
Preheat oven to 190°C. Grease and line base of a 20cm square cake tin with baking paper.
Beat eggs with a pinch of salt. Add sugar and half of the vanilla.
Beat until thick and creamy. In a separate bowl, sift together flour, cornflour and baking powder. Add to egg mixture, then carefully fold through 60g melted dairy blend.
Pour cake mixture into prepared tin and bake for approximately 30 minutes, or until cake springs back when lightly touched. Leave in tin for 10 minutes before turning out onto a wire cake rack to cool. Cut into 20 squares. Meanwhile to make icing, dissolve cocoa in 1/3 cup boiling water. Place icing sugar in a medium size bowl. Add cocoa mixture, remaining canola blend and remaining vanilla essence. Stir well to combine.
Using a fork, skewer each cake square then spoon over warm icing to coat. Lightly sprinkle with coconut, then arrange on a lined baking tray and set aside.