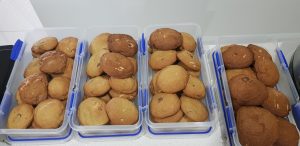 This is still the best choc chip biscuit recipe ever !
I have been making this recipe for many many years, these are the ones that I made today.
🙂
500gm butter softened 2 teaspoons vanilla extract
1 1/2 cup brown sugar 1 1/3 cups caster sugar
4 eggs 5 cups plain flour 2 teas bi carb of soda
choc chips and walnuts, almonds or whatever you have.
Cream butter, vanilla, sugar and egg until smooth.
Add flour and bicarb of soda
Add choc chips and nuts
You can add sultanas, ground hazelnuts, or almonds.
Cook in a moderate to hot oven until lightly brown.