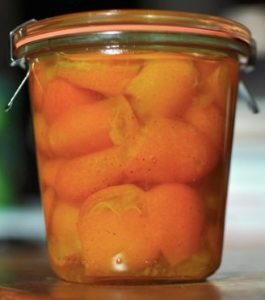 Ingredients:
Kumquats
Salt
Fresh Garlic
Cut the kumquats in half and put them on a tray
Liberally sprinkle with salt and leave to infuse for a few hours
Put heaps of garlic through a crusher and put a thin layer over the kumquat halves
Pack the kumquats in a sterile bottle and leave for several months before eating or using as per pickled lemon in any recipe. (Don't panic if the garlic goes green-just a chemical reaction) Also, don't panic if your friends don't like them, it is an acquired taste.   Just like us, gets better with age.
Thanks Brother Peter, for this memorable recipe. xx