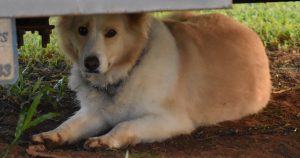 2 1/2 cups whole wheat flour
3/4 cup nonfat dry milk powder
1 egg, beaten
1/2 cup vegetable oil
2 cubes beef stock cube
3/4 cup boiling water
2 tablespoons brown sugar
Directions
Preheat oven to 150 degrees. Lightly grease one baking tray.
Dissolve stock cubes in boiling water and allow to cool.
Combine the flour, dry milk, egg, oil, beef broth and brown sugar. Mix well and knead dough for 1 minute.
On a floured surface roll out dough to about 1/4 inch thickness. Cut out bones and place on cookie sheet. (small cutter is best)
Bake for 30 minutes and allow to cool.