CURRIED SAUSAGES  a la Karen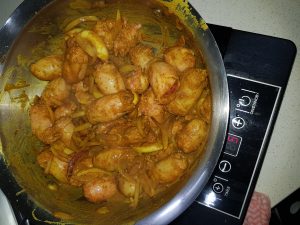 Add approx 6 tabs oil to large saucepan. Heat over medium heat.
Chop two large onions and add to oil.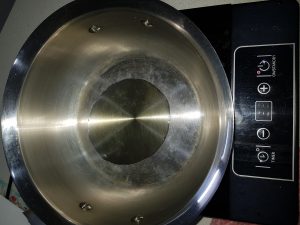 Add two large tablespoons of curry powder (depending on how much you like)
Mixture will be dry, so I add 1/2 cup water to the mix
Chop 1 kg sausages into thirds and add to the mixture
(I usually use beef, but today I used English Pork.  See how they go. 😊)
Mix well and fry until sausages are browned.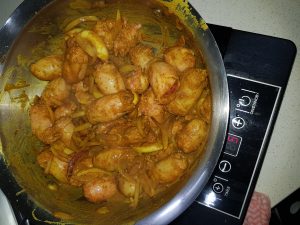 Add enough water to cover the sausage mix
Peel and dice 1 large sweet potato (you can use whatever potato you like) Add to mix.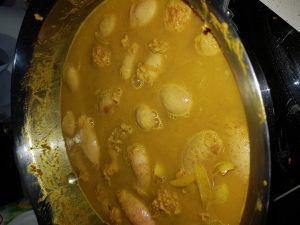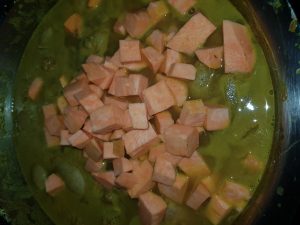 I like a lot of sultanas in mine, add as many as you like.
Same with the peas, add as many as you like.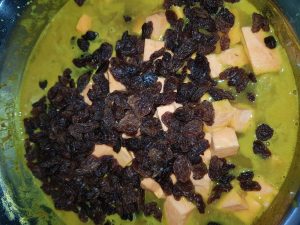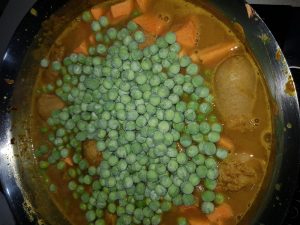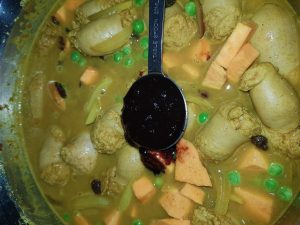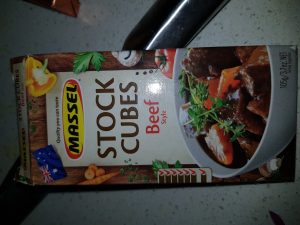 Next, I add two tablespoons of jam. This is a home made grape jam from Gordonvale Markets.
Add two Stock Cubes for more flavour.
Then Just add water to the top of the saucepan, allow to cook until all veges are cooked.
I usually put mine on at lunch time and allow to cook for the remainder of the day.
Oh yeah, thicken with some blended flour if you want to.