This old fashioned recipe is one of the best desserts to get you out of trouble.  I always keep a packet of tapioca pearls in the pantry.  There are many different types, I usually use the small pearls.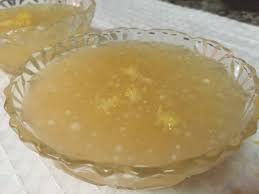 1 cup tapioca seeds
1 cup sugar
2 tabs golden syrup
5 cups water
1 tab butter
1 lemon juiced + rind
Place tapioca and water in large saucepan, and bring to boil
Reduce heat and simmer until tapioca swells and is transparent. Keep stirring so it doesn't stick
Add sugar, butter and lemon juice and rind if you are adding rind.
Pour into bowl or bowls and allow to cool a little before chilling.
Serve with cream or custard, or maybe even ice cream.