This is one of the best cakes ever, super healthy and tasty.  As you will see, it is mainly fruit and nuts and a small amount of mixture to hold it together, probably should be called the Fruit and Nut Cake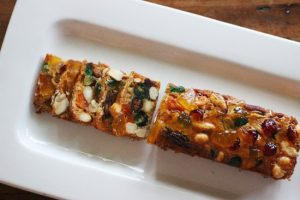 3 x 75 gm packets BRAZIL Nuts 2 x 125 gm Packets BLANCHED ALMONDS
1 x 125 gm RED CHERRIES 1 cup RAISINS
1 cup SULTANAS ¾ cups PLAIN FLOUR
½ teaspoon BI CARD SODA ½ teaspoon SALT
¾ cup CASTER SUGAR 3 EGGS
1 teaspoon VANILLA
Read instructions carefully-
GREASE tin
LINE tin with paper
Place EGGS in bowl, beat and Add VANILLA. Set aside.
Place ALL OTHER INGREDIENTS into large bowl and mix well.
Add EGG MIXTURE to DRY INGREDIENTS
Mix together and press into tin
Bake in SLOW OVEN for 1 ½ – 2 hours.