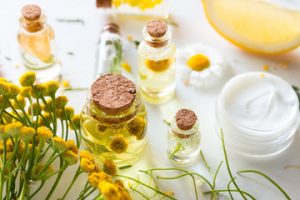 Honey contains fantastic anti-ageing properties, and is great for treating acne and scars.  These Honey Masks will calm your skin and you will instantly feel the boost.  Mix equal amounts of each, place on your skin for 15 – 20 minutes and then simply wash off.  You will really feel the difference.  You will find a lot of the ingredients readily available in your pantry. There is a variety of Essential Oils available to experiment with.
 DEEP CLEAN PORE SCRUB– Honey + Sugar+ Olive Oil
SCAR REDUCTION – Honey + Frankincense Oil
BLACKHEADS – Honey + BiCard of Soda
ACNE – Honey + Nutmeg
SHRINK PORES – Honey + Apple Cider Vinegar
SCRUB FOR SMOOTH SKIN – Honey + Oatmeal
OILY SKIN – Honey + Tumeric
CLEANSE FACE DAILY – Honey + Coconut Oil
HAIR LIGHTENER – Honey + Castile Soap + sweet orange essential oil.
There are NATURAL INGREDIENTS that are safe to use as your personal care products – Here are a few:
MOISTURISER – Pure Emu Oil + Coconut Oil
HEALER – Oregano Oil
NATURAL DEODORANT

1/2 cup coconut oil
1/2 cup baking soda
40-60 drops essential oils – Choice of Scents
Put coconut oil in bowl   +    Mix in baking soda  +  Add in essential oils
Store in a deodorant container or in a glass jar
AVOID THE FOLLOWING
Commercially available products often contain these dangerous Chemical Ingredients:
1,4-DIOXANE – a byproduct of carcinogenic petrochemical ethylene oxide – Found in "natural" "organic" brand shampoos, body washes and lotions.
PARABANS – Found in deodrants, shampoos, conditioners, spray tans, lotions, shampoos, make up, food additives.
PHTHALATES – DEPH, DBP, BBP1,DIN AND DnOP2 – shower curtains, floor coverings, cleaners, cosmetics, detergents, tap water.
METHYLISOTHIAZOLINONE (MIT) – Found in shampoos
TOLUENE – Found in fragrances, nail polish, lacquers, adhesives and rubber.
TRICLOSAN – Found in toothpaste, deodrants, antibacterial soaps, body washes cosmetics
SODIUM LAURYL SULFAE (SLS), (SLES) (ALS) – found in hair colour and bleaching and scalp treatments. Make up, shampoos, and many more
PROPYLENE GLYCOL – Carrier for fragrance oils, cosmetic moisturisers, shampoos
As Doctor Mercola says, "if you can't pronounce the ingredients, they are not likely to be good for you"