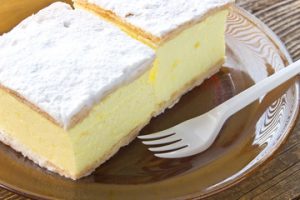 It is always so nice to have friends and family visit.  Sometimes, you get caught off guard, but don't fret, there is always time to put a simple dessert together and get you out of trouble.
Here is my special go-to:
VANILLA SLICE
2 slices of frozen puff pastry – warm oven to 210 C and bake each slice until golden then allow to cool
600ml T/Cream + 2 pkts of Vanilla Instant Pudding – Mix together- I do mine in a food processor.
When thick, place on top of one of the cooled sheets of puff pastry.  Press second piece on top and sprinkle with icing sugar (I put mine through a seive)
Place in the fridge for around 1 hour if you can, then serve and enjoy.
There is a lesson in this one, always have a packet of puff pastry in the freezer and a couple of packets of instant pudding, and you are set. Enjoy!