Last night we had a lovely dinner, great wine and champagne, and the best of company.  Thanks to Bjarne and Paul who joined Jim and Myself for a Christmas Dinner at our house.
The recipes I used are below and so good, they will be great for many Christmas Dinner's to come.  In the Baked Ham, I used Sherry instead of the Brandy recommended, and it was awesome.  I then used some of the baste to skim over the vegetables as well.  I added a loaf of Hot Garlic Bread made with Stone Baked Sour Dough Bread, spread with Butter, Garlic, and some grated Parmesan Cheese.  The Lemon Tapioca for dessert was a big hit as usual. Enjoy the recipes!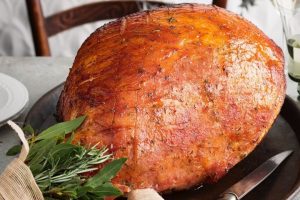 APRICOT BASTED HAM
Ingredients
8kg cooked leg ham
1 cup apricot nectar
1/3 cup brown sugar
1/3 cup brandy
3 teaspoons finely chopped fresh rosemary
2 teaspoons ground ginger
1 tablespoon Worcestershire sauce
Method
Preheat oven to 180C/160C fan-forced.
Using a small sharp knife, cut through ham rind about 8cm from shank. To remove the rind from the ham, start at the opposite end to shank, and run your thumb under the rind to separate it from fat. Peel back and remove rind (see notes). Score the fat in a diamond pattern, being careful not to cut through to the meat. Wrap shank end in foil.
How to prepare a ham
Place apricot nectar, sugar, brandy, rosemary, ginger and Worcestershire sauce in a small saucepan over low heat. Stir for 3 minutes or until sugar dissolves. Increase heat to medium. Bring to a simmer. Simmer for 5 minutes or until reduced slightly.
Place ham on a lightly greased wire rack in a large roasting pan. Add enough boiling water to pan until it reaches 2cm up side of pan. Brush ham with 1/4 of the glaze mixture. Bake, basting with remaining glaze every 20 minutes, for 1 hour 30 minutes or until ham is golden. Remove and discard foil from shank. Serve.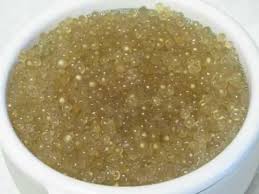 LEMON TAPIOCA PUDDING WITH CUSTARD
1 cup tapioca seeds (small)
5 cups water
1 cup sugar
1 tabs butter
2 tabs golden syrup
Juice of 1/2 lemons
Place tapioca and water in large saucepan.
Bring to boil.
Reduce head and simmer until tapioca becomes transparent.
Stir so it doesn't stick.
Add sugar, and mix until dissolved.
Add syrup and juice.
Pour into bowl and allow to cool then chill.
Serve with Custard or Cream.