1 pkt frozen puff pastry
egg and milk for glazing
1 kg sausage mince
2 onions grated
2/3 cups water
1-2 tabs flour blended in water (for thickening)
pepper & mixed herbs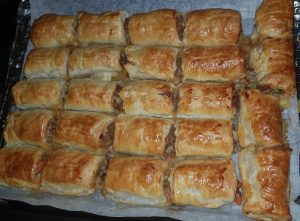 1.  Place mince, pepper, onion, herbs, and water in a saucepan
2.  Cook until brown, stir well
3.  Do not have heat too high,it will burn and stick
4.  Add blended flour and cook until thick, stirring constantly
5.  Allow to cool
6.  Line tray with baking paper
7.  Cut pastry in half and place mixture and roll
8.  Mix 1 egg with some milk and brush this glaze over each roll before cooking in mod oven.
These are great to have in the freezer, especially at this time of year, when you have visitors pop in.  Get ready for Christmas in advance.