Welcome to this little corner of the net, where I can show off some "how to's" that I am fortunate enough to have been granted by our wonderful mother and others of her generation.  Some wonderful go-to cooking recipes, recipes for sustainable living, crafts, and all the wonderful basics that were once part of everyday life,  but seem to have been lost a little.  Let's get together and bring them back, reduce our waste and enjoy the products that we make.
I am seriously passionate about "home-made", the joy of tasting that home-made boiled fruit cake, or banana cake made from those over ripe black looking bananas that no one would eat because they have gone soft and are unattractive but are just screaming "banana cake"!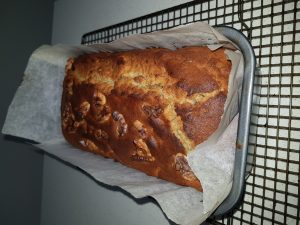 Banana Cake
120gm butter     180gm caster sugar     2 eggs beaten     4 bananas     1/2 teas bicarb soda
4 tabs milk (warmed)     2 cups Self Raising Flour.     Option – Walnuts
METHOD
1. Cream butter and sugar, add egg, mashed bananas and bicarb, mix well
2. Fold in milk and flour alternatively
3. Once mixed, it is time to add some of those option walnuts.  Place into a greased baking tin. Bake in moderate oven for approx. 45 mins until cooked.
I will give you the basic recipes, but you will find that most of my successes come from my natural instincts of adding a little here and there to come up with exactly what I wanted.  I have never been one to follow the recipes, that to me, is way too boring!  I will aim to take note of those little added bits and pieces and pass them on. (only as an extra option)
I am self-taught/Mum-taught and family-taught, I have no formal qualifications, and to this very day, still have the occasional stuff-up.  Just like the other day when I tried to make some healthier waffles using coconut flour, without doing any research beforehand, well, they stuck to the waffle iron, and would not hold together, no matter how I tried.  So, after the realisation that things were hopeless, I made the original recipe, using plain flour and we had some yummy waffles with honey.  I can't wait to try them with some of the honey that we recently bought back from Uncle Jim in WA.  It is some of the best honey that I have ever tried.  Thanks Uncle Jim xx                                                                                                                                               Even our hairy dog, Miss Ellie, (oops, did I say dog?), our little girl (border collie), has only ever had home-made meals, and has only had commercially prepared meals when she goes into the resorts, for her (and our) holidays. She usually comes home with new likes, eg, chicken wing tips last time. She loves to go there and seems to really love it when she gets home again. A bit like us all, so nice to go on holiday, but is really nice when we get home again.
I particularly love the soap making, this really is a place where you can let your imagination run free.  There are so many different scents and essences that you can put together to get that exact formula that you and your family love.  Don't forget to take note of what you add, just in case you want to replicate it.
Seeing the kids, and grandchildren wrapped in a home-made blanket, after many hours of twisting the crochet hook to get the beautiful colours and patterns.  I always have a stack of completed blankets on hand for those family visits.
When I have a lot of wool scraps, I make up a 'rug of many colours', but recently, a niece of mine, came up with a wonderful use for hers.  She makes granny squares and is putting them around the fence line posts of their property on the Tablelands.  Well done, Kylie, they look very sweet, and you will never lose the boundary line!  I don't know how long they will last, but it will be something she can continually replace to use up her scraps.

All recipes and creations here are tried and tested unless stated otherwise.  If you so desire, you can contact us, we would love to hear from you.
[eafl id="39″ name="siteground" text="Siteground hosting"]